Laid on the bank of our pond, the Odyssée is accessible to anyone.
For 4 to 6 persons, this cabin is made to welcome everyone from 0 to 100 years old! It's terrasse is slightly above the water, offering a great view over the pond, while enjoying a good farm organic apple juice. Spacious inside, with a dining and living space, bedroom space, and up the stairs the children's corner with 2 single beds floor level, and above all, the catamaran net to read and lounge to leisure and of course the little balcony.
Babys welcome.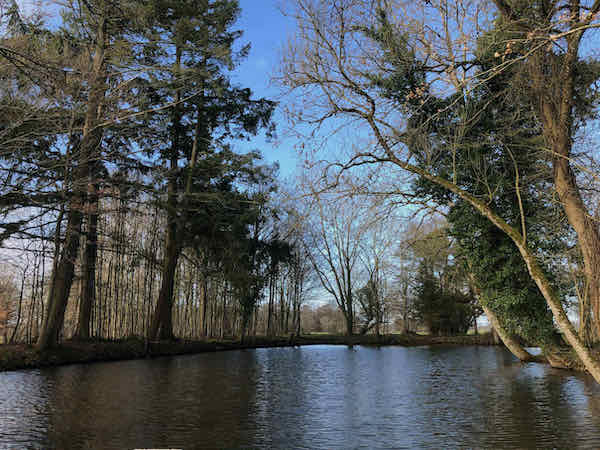 Practical
- You will be given a rucksac with water and lights (candles in your cabin, and your beds will be made with a warm duvet, pillows).
-Each tree house is equipped with its own cry compost loo (very clean, no smell!) and a small hand basin for washing … but rest assured, there are traditional flush loos and warm showers (with hairdryers) at your disposal in the 17th century chicken house (it has been fully renovated and there are no longer chickens). You will find there towels, shower gel and shampoo, hair dryer.
-We propose picnic hamper style dinners made with good fresh local produce. If you would like one then please let us know at least 3 days in advance (menus in "activities" "eating here").
Otherwise you can bring your own picnic, or perhaps visit our website for local recommended restaurants ("activities" "eating out")
-In order to best organise your welcome, we ask you let us know your time of arrival (between 3pm and 7 pm) in advance. Access to you cabane after the briefing 16h30, 17h30, or 18h30. The cabin must be freed by 11am on the day of departure.
-AND do not forget to bring a fully charged mobile phone.
- We do not accept animals on site
Do not hesitate to contact us for more information on 00 33 6 58 54 21 24.
---
La cabane Odyssée en image (cabane en cours de construction)
---
Réservez vite !
Last update : 01/03/2023