La Sunset is 11 metres high and is accessed by a spiral staircase.
La Sunset is….stunning!

When you stand on the terrace, which is nestled within the branches of the tree you get to take in the panoramic view of the surrounding Perche countryside.
The treehouse is in between 2 organic fields and the wildlife is abundant as a result. There are a multitude of birds and animals including deer.
We provide you with binoculars and you can watch the red deer who have a path between two woods which runs directly underneath the treehouse.
What makes it even more special are not just the sunsets, but the beautiful sunrises……that is if you are up early enough for them!
It has been designed with romance in mind and so would suit a couple - take dinner on the terrace while the sun sets, it is very special.
There is a double bed (the interior windows allow you to see the countryside from your bed) and there is also pull-out bed for a young child (2 to 10 years old).
The setting is so wonderfully peaceful, areal treat away from modern life.
Guests tell us of very friendly birds that serenade them each day!
Children from 2years old.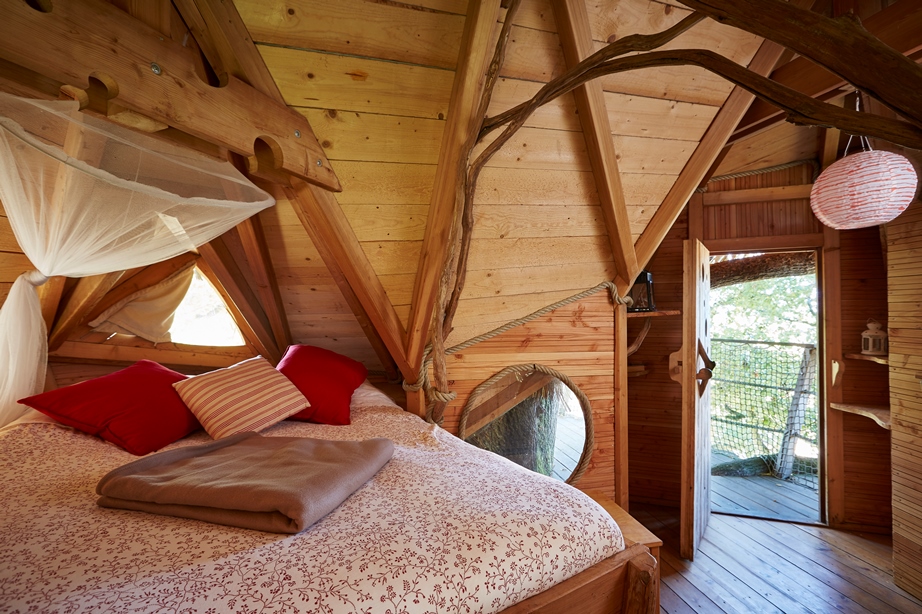 Practical
- You will be given a rucksac with water and lights (candles in your cabin, and your beds will be made with a warm duvet, pillows).
-Each tree house is equipped with its own cry compost loo (very clean, no smell!) and a small hand basin for washing … but rest assured, there are traditional flush loos and warm showers (with hairdryers) at your disposal in the 17th century chicken house (it has been fully renovated and there are no longer chickens). You will find there towels, shower gel and shampoo, hair dryer.
-We propose picnic hamper style dinners made with good fresh local produce. If you would like one then please let us know at least 3 days in advance (menus in "activities" "eating here").
Otherwise you can bring your own picnic, or perhaps visit our website for local recommended restaurants ("activities" "eating out")
-In order to best organise your welcome, we ask you let us know your time of arrival (between 3pm and 7 pm) in advance. Access to you cabane after the briefing 16h30, 17h30, or 18h30. The cabin must be freed by 11am on the day of departure.
-AND do not forget to bring a fully charged mobile phone.
- We do not accept animals on site
Do not hesitate to contact us for more information on 00 33 6 58 54 21 24.
---
Sunset tree house, photo album
---
Book now!
Last update : 01/03/2023