A 16 m high tree-house in a majestic 150 year old Beech tree !
When you stand at the foot of this majestic 150 year old Beech tree for the first time and look up, you really do wonder what will greet you at the top. All you can see is a long ladder disappearing upwards into a mass of leaves. In some ways it is like a ladder leading up into the clouds.....to paradise perhaps?

The setting is very tranquil, set within the park of the chateau and overlooking a meadow with horses. There is a magnificent view of the chateau.
The Paradiso has been designed for a couple...it is romantic!
Inside there is a double bed and when you lie back you get great views into the canopy of trees. Outside there is a small terrace, ideal for a romantic champagne dinner by candlelight, perhaps to celebrate a special occasion or just to get away from it all.
The Paradiso certainly makes you feel that this is what Paradise would be like.
No children allowed in this tree house.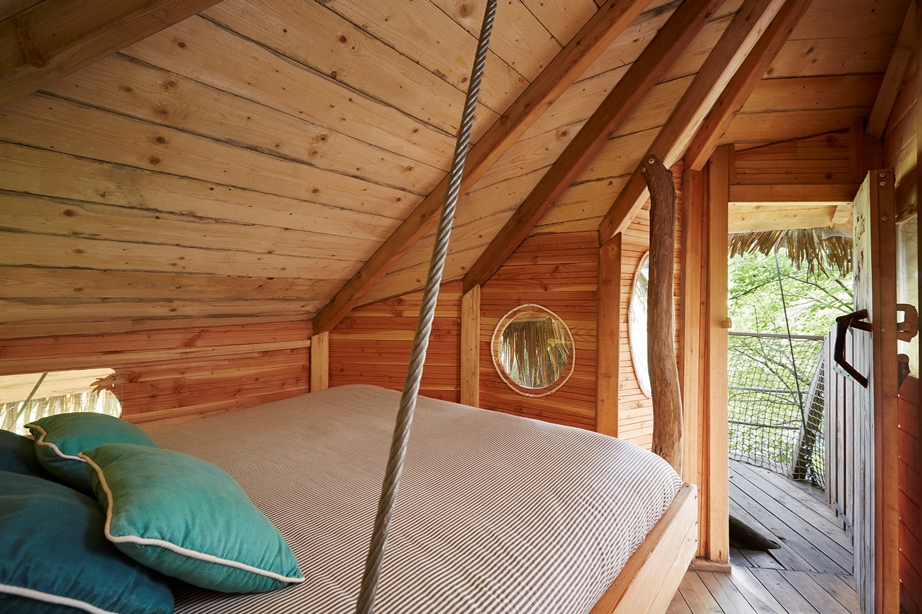 Practical
- You will be given a rucksac with water and lights (candles in your cabin, and your beds will be made with a warm duvet, pillows).
-Each tree house is equipped with its own cry compost loo (very clean, no smell!) and a small hand basin for washing … but rest assured, there are traditional flush loos and warm showers (with hairdryers) at your disposal in the 17th century chicken house (it has been fully renovated and there are no longer chickens). You will find there towels, shower gel and shampoo, hair dryer.
-We propose picnic hamper style dinners made with good fresh local produce. If you would like one then please let us know at least 3 days in advance (menus in "activities" "eating here").
Otherwise you can bring your own picnic, or perhaps visit our website for local recommended restaurants ("activities" "eating out")
-In order to best organise your welcome, we ask you let us know your time of arrival (between 3pm and 7 pm) in advance. Access to you cabane after the briefing 16h30, 17h30, or 18h30. The cabin must be freed by 11am on the day of departure.
-AND do not forget to bring a fully charged mobile phone.
- We do not accept animals on site
Do not hesitate to contact us for more information on 00 33 6 58 54 21 24.
---
Paradiso tree house, photo album
---
Book now !
Last update : 01/03/2023